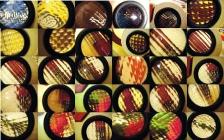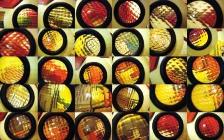 A human being, a snake, a dog, a bird don't see the world in the same way, isn't that true?
In this album there are photos of some museum catalogues and brochures and a teddy bear, thrown on a table. I took the photos at my friend's place in Vienna using prisms and kaleidoscopes.
On each photo there is a small part corresponding to what the human ey can see. The rest is what we can see through a kaleidoscope. In both cases the reality remains the same, the change consists in the way we see things.
In each picture in this album I combined 30 photos and the final college is a combination of these 17 smaller collage pictures/510 photos.
Size of the collage: 67x84 cm